Angle Finder – Spirit Level
#1 Bubble Level & Protractor
Measure angles with the most professional angle measuring tool for iOS and Android!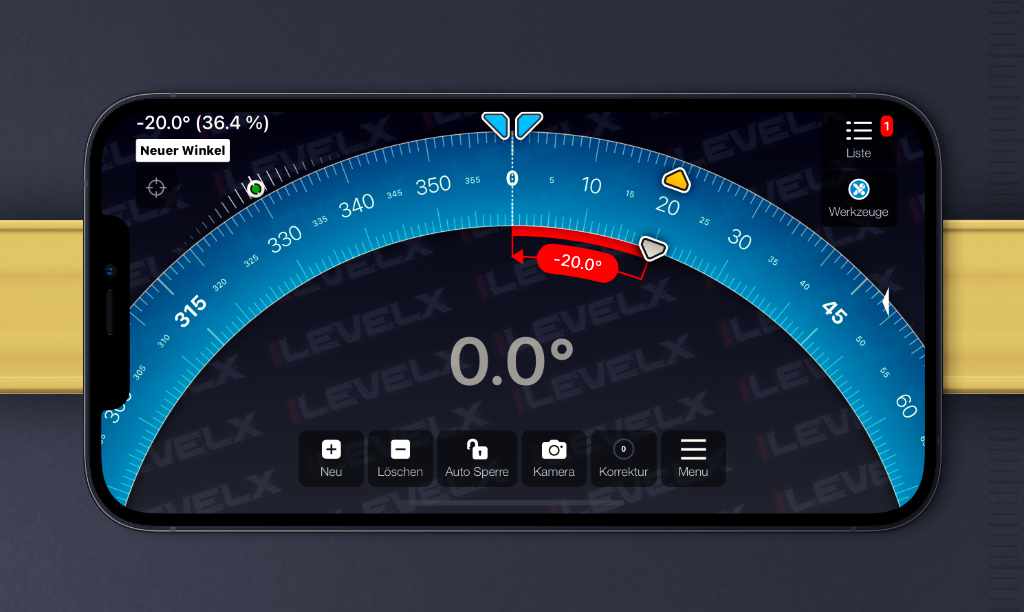 360° clinometer

Use the clinometer/protractor to measure angles along all edges of your phone. You can set a target angles. Approaching the target angle or major 45°-steps a high-precision scale will be displayed.

Precision Spirit Level

Approaching either the selected target angle or one of the major 45-degree steps, a high precision scale will be displayed. This enables you to measure precise up to 0.1° and even 0.01°.

Highest Precision

The 6-point calibration assistant guarantees high precision up 0.1°.Surface level and protractor calibration are completely independent of each other allowing for even higher precision.

Surface level

Our Surface Level feature is both precise and user-friendly. You can easily measure the levelness of any surface with just a few taps on your phone's screen, whether it's a table, shelf, or picture frame. Say goodbye to traditional bubble levels and switch to our app for quick and accurate leveling.

More tools…

Our app provides additional tools to enhance your measuring experience, including Augmented Reality measurement, a Ruler, Compass mode, and a Barometer. Use Augmented Reality to measure distances and angles, Ruler for straight lines, Compass for directions, and Barometer to predict weather changes. These tools are easy to use and provide added value to the app.

Visual Measuring

With our Angle Finder – Spirit Level app, you can easily measure angles through your phone's camera. Simply open the app, point your phone's camera at the surface you want to measure, and the app will instantly display the angle measurement on your screen. It's that easy!

Intuitive Design

Our app has an intuitive and sleek design that makes measuring easy. The user-friendly interface and easy-to-access features ensure a seamless measuring experience. The app's design is functional and aesthetically pleasing, making it an ideal tool for DIY enthusiasts and professionals alike. The app's clear display of measurements and simple navigation allows you to achieve accurate and precise results with ease.
Very useful!

I use this app when working on household projects as well as hanging pictures. Cokes in handy and is dead-on accurate!
Impressive

The first time I used this app, it really impressed me with its great features and high precision. Definitely worth trying!
Satisfied 5

Quite satisfied with the latest update version, which include a real protractor indicator in the surface level tool. Great app!
It is an extremely useful protractor app for everyone who wants to take measurements using their phone or wants to check surface levels.
This app measure precisely the angles on different surfaces. The best levelling tool to check surface levels.
A versatile tool.

It's a multi-functional app that helps me a lot in my work. Many thanks.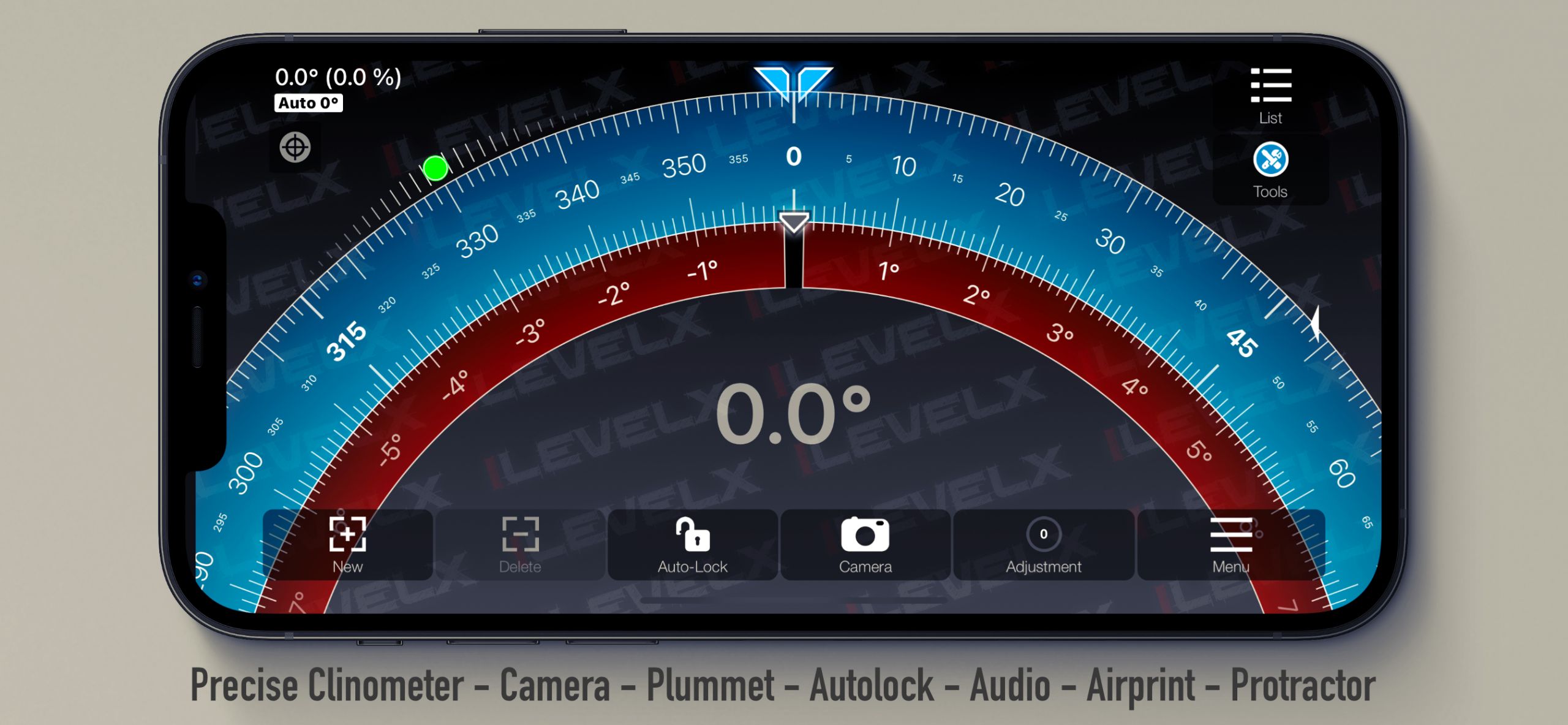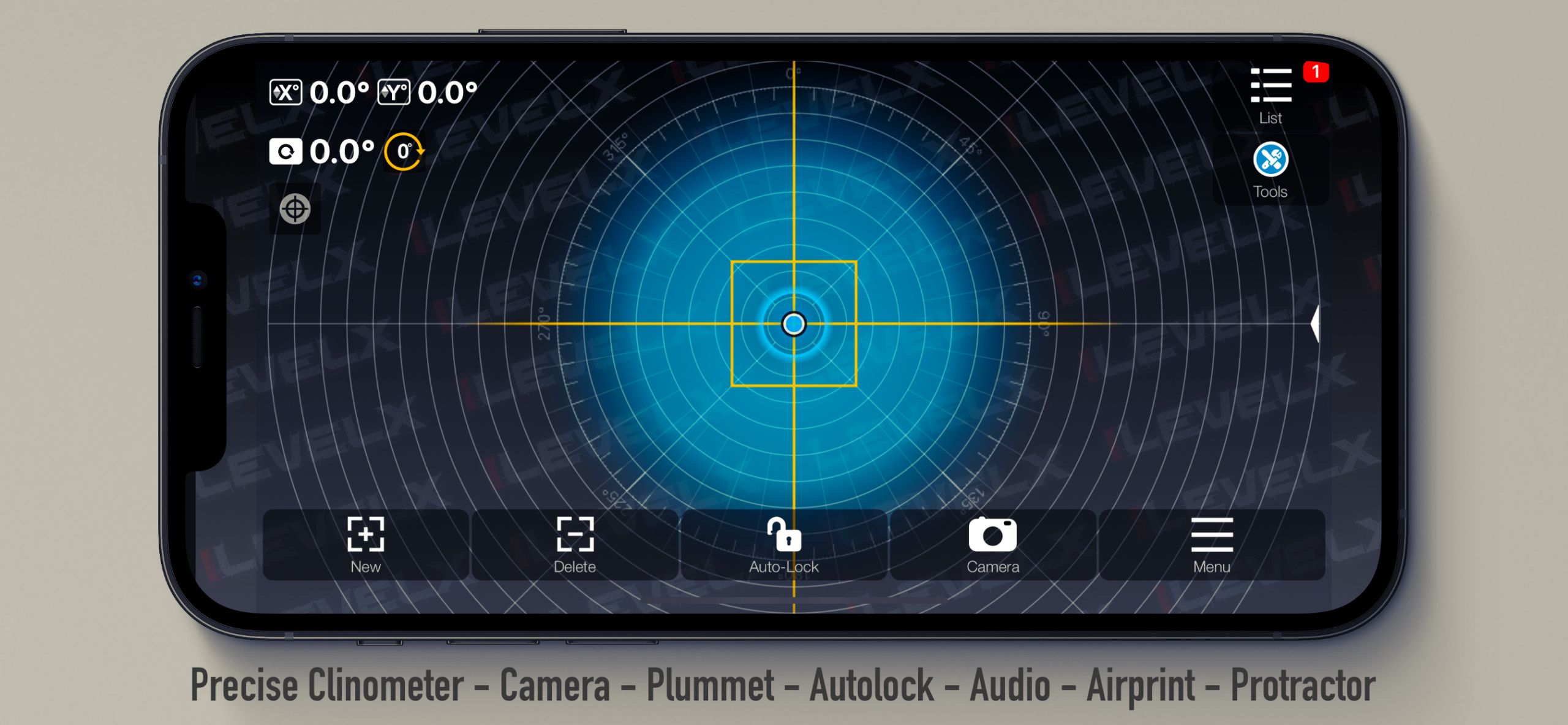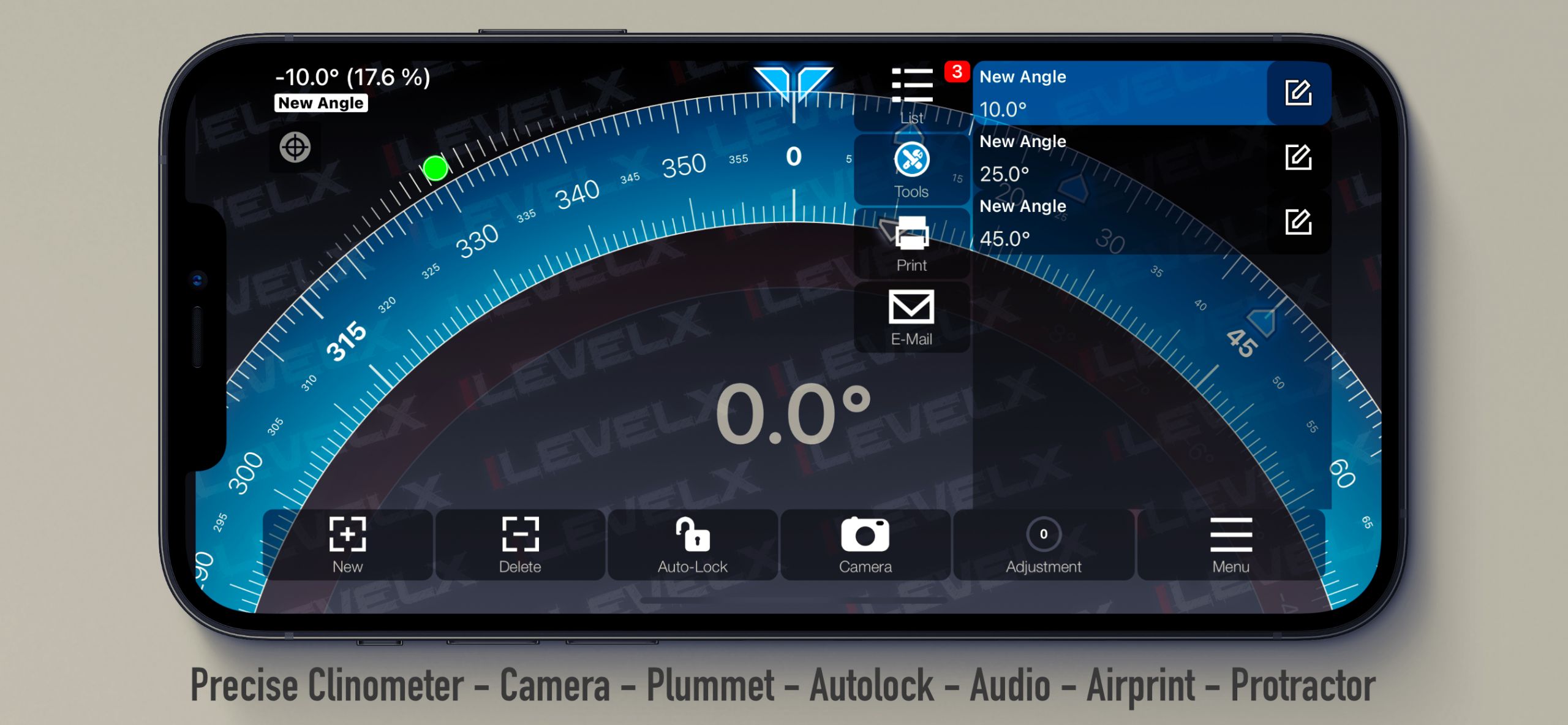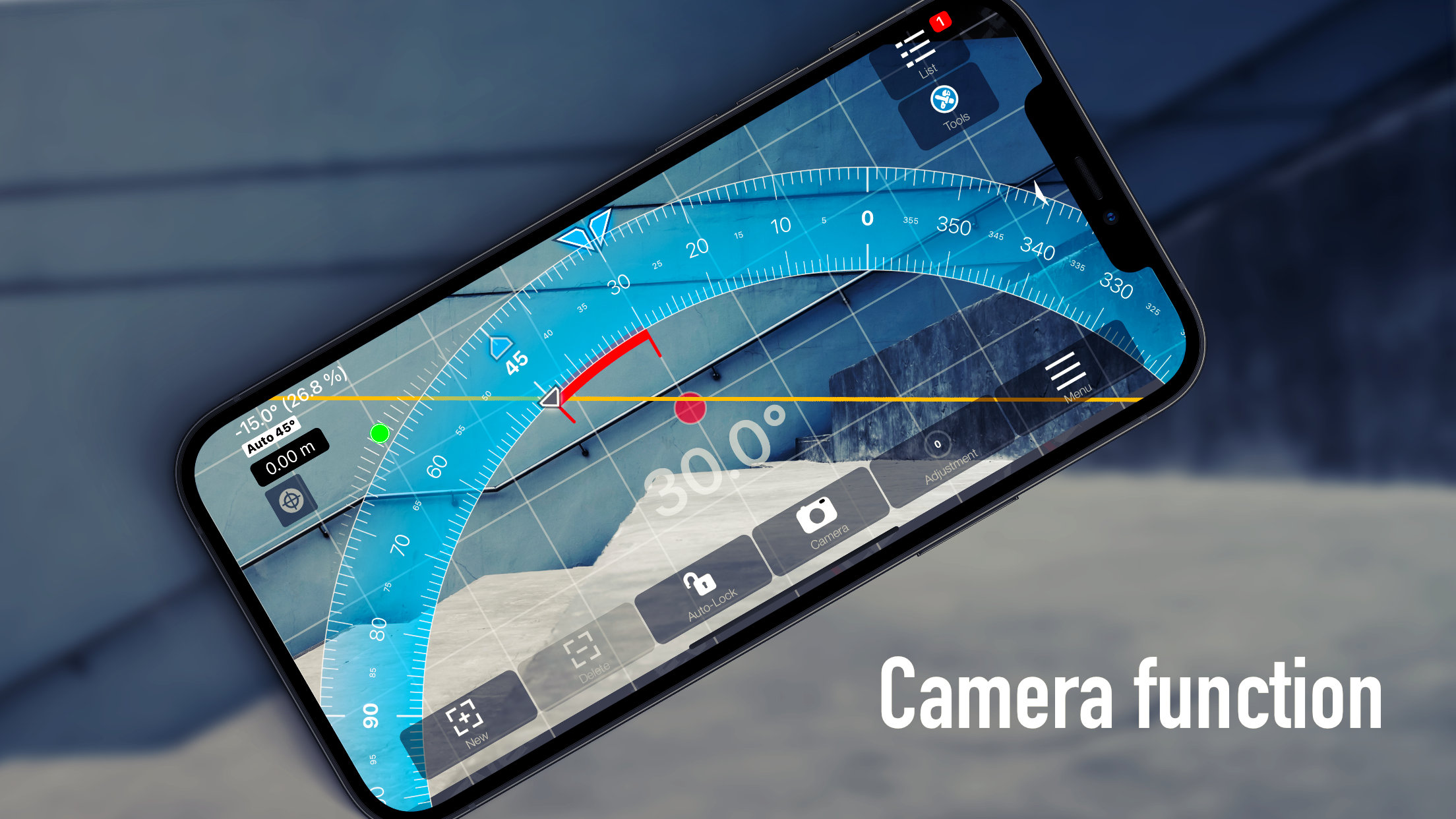 360° protractor, clinometer with bubble level, level tool
Surface level, plummet tool
Automatic bubble level display / Spirit levels for 90°/180°/270°/360°
Automatic transition from protractor to plummet tool
Acoustic signal indicating the angular difference between actual and target angle
High Precision Scale
Use the flashlight measure in dark environments
Automatic Mode Switch

Adaptive Audio Signal

Angle Memory for multiple angle values

Manual Editor

Manual 90° Correction

Manual Rotation Reversal

Full Online Support System

6-step calibration assistant
Protractor for Apple Android – The most precise protractor tool with bubble level in one app.
Level things in your household using the bubble level or the protractor.
Measure angles and slopes: The most precise protractor and bubble Level/Spirit level in your pocket. Including Flashlight + Compass + Ruler + Camera measuring – All in one handy app.
Industry leading fresh and responsive design.
Your search for a perfect mobile clinometer, protractor app for measuring angles and leveling surfaces ends here. Our clinometer, spirit Level, protractor, bubble Level is extremely precise and intuitive to handle.
These intuitive features are packed in the Measure App level tool with easy user controls and intuitive handling.
360° clinometer
Use the clinometer the measure angles along all edges of your phone. You can set a target angle by moving your finger across the display. Additionally you can store up to 5 angles in the angle list and recall them quickly as target angles.
Approaching the target angle or the 90°/180°/270°/270° angle (according to your setting) you can receive different acoustical warning depending on the difference between measured and targeted angle.
Protractor-Multitool also features a stability indicator indicating the rate of change.
Spirit level
Approaching 0°/90°/180°/270° a spirit level is displayed. This enables you to precisely level things.
Surface level
The surface tool enables you to level surfaces. Level differences will be displayed in degrees.
Intuitive
Depending on the orientation of your iPhone the view transitions from surface level to 360°-protractor.
In addition to that spirit levels will be displayed when approaching cardinal angles.
Highest precision
The 6-point calibration assistant guarantees high precision up 0.1°.
Surface level and protractor calibration are completely independent of each other allowing for even higher precision.
Sophisticated design
Measure App native drawing capabilities of your phone for extremely clear and fluid display.
Measure App is also known as: spirit level, level tool, nivelador, waterpas, electronic level, digital level, laser level, nivel, plumb, level tool, clinometer, leveler, inclinometer, protractor. Tool uses accelerometer (g-force) and designed to measuring: angle (horizontal, vertical), slope, balance, tilt, surface, length and height (ruler). Easy to use. $$$ level
Accuracy at Peak with the iLevel – Protractor & Level
Have you ever consider using the best measuring instrument with little or no error, and it comes in handy without carrying many tools in your pocket? If you are a beginner, you probably will be thinking, what is unique about this iLevel App? Maybe you have been searching for the best. All your worries and concern ends here today!!
Are you searching for an App with a sophisticated design that can efficiently use your mobile device's drawing capability? Without much ado, the iLevel draws and creates a transparent and fluid display. As a construction worker, using this App is a sure banker.
Read more…
Developed by JRSoftWorx, a Berlin-based software company, the 'iLevel – Protractor & Level' app is a clinometer, protractor, and spirit level all in one. It offers an ultra-precise, extremely versatile measurement platform with an updated user interface for convenience of use. Its various functions assist users in checking surface levels and measuring angles at the highest degree of accuracy, up to 0.1°. Although the app has been a staple for handheld measurements since 2014, the developers recently reworked the design to improve clarity and overall functionality.